"Its immediately obviously that Sequoia Skin uses quality ingredients in their products."
Day & Night Regular Set
Most popular: Day and night cream, one discounted price. (15% OFF)

The Sequoia Skin Day and Night is everything we stand for. Containing lux day and beauty night, It's simple and effective skin care that allow your beauty to shine through. It's suitable for all skin types, and contain all of our unique ingredients for the complete replenishing experience.
100% NO-RISK MONEY BACK GUARANTEE

+
We think you're going to love your products! But if you aren't completely satisfied with everything, you can return or exchange the item(s) within 30 days of purchase.

You can see all the details about our return policy here. More questions? Just reach out—our customer service team is happy to help!
Free Shipping
How long until wrinkles smooth?

On average expect it to take about 4 weeks before you start seeing true change in fine lines and wrinkles. Everyone is different, it could take longer, or it could be shorter.
Active Ingredients

Active ingredients in Lux Day

Sequoia Essence
The highly concentrated extract from the bark of the Sequoia tree increases skin resistance. This protects it from negative environmental influences. Wrinkles and fine lines are reduced.

Aloe Vera
The natural plant extract is the ultimate moisture supplier. The skin is refreshed and soothed, the complexion appears plump and hydrated.

Titanium dioxide
This belongs to the mineral light protection filters. Used in creams, they reflect UV radiation before it reaches the skin. Therefore they are particularly kind to the skin.

Active ingredients in Beauty Night

Sequoia Essence
The highly concentrated extract from the bark of the Sequoia tree increases skin resistance. This protects it from negative environmental influences. Wrinkles and fine lines are reduced.

Jojoba Oil
The vegetable oil is rich in provitamin A and vitamin E. It's similar to the skin's own sebum, making it ideal as a moisturizer for all skin types. The oil carries anti-inflammatory effects, and is quickly absorbed without leaving a greasy film on the skin.

Biotin
Also known as vitamin B7 or vitamin H, biotin is particularly important to keep skin firm, and hair and nails strong. The vitamin supports the metabolism and cell growth and strengthens the protective barrier of the skin.
How to Use

Apply a pea-sized amount to the skin after cleansing every morning. Massage gently into the skin until absorbed.

The premium quality airless dispenser protects the cream from contamination and prevents it from drying out.
"Its immediately obviously that Sequoia Skin uses quality ingredients in their products."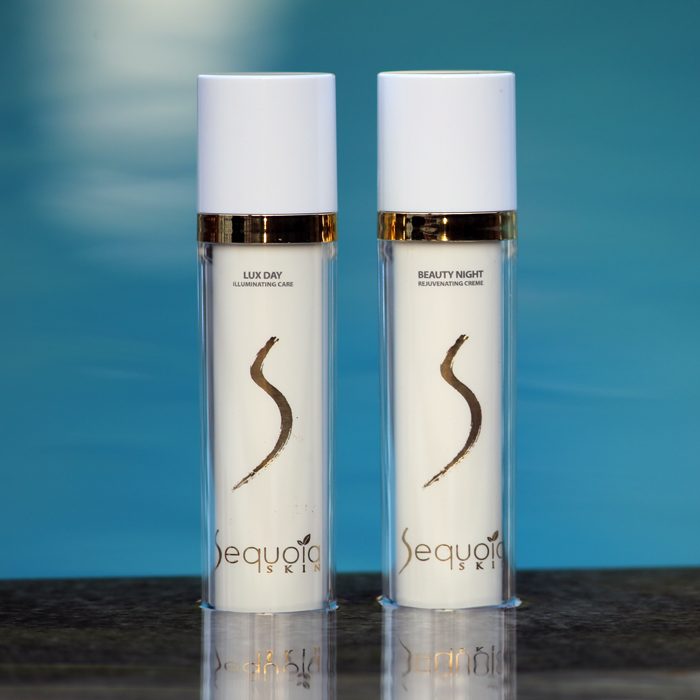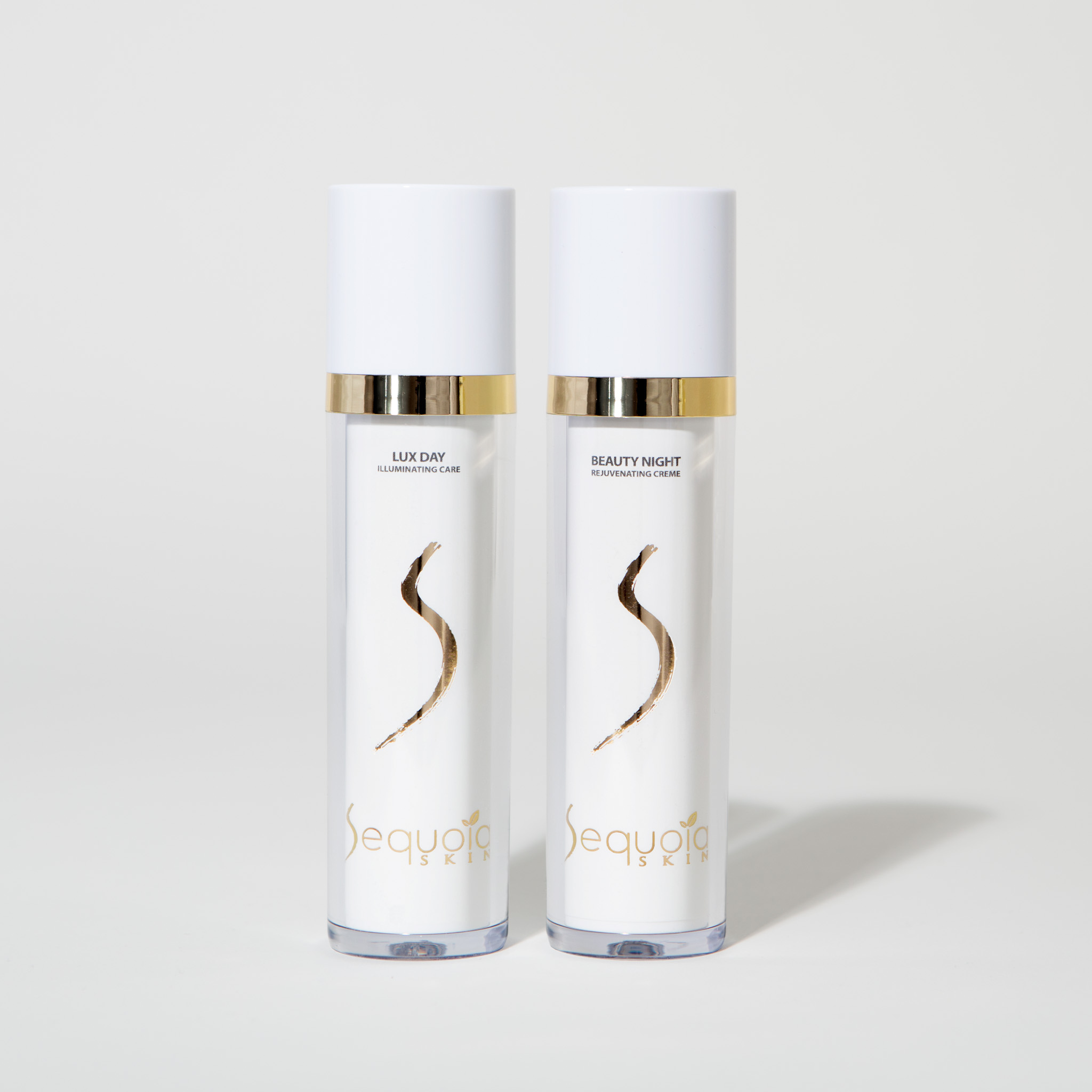 100% Satisfaction Guarantee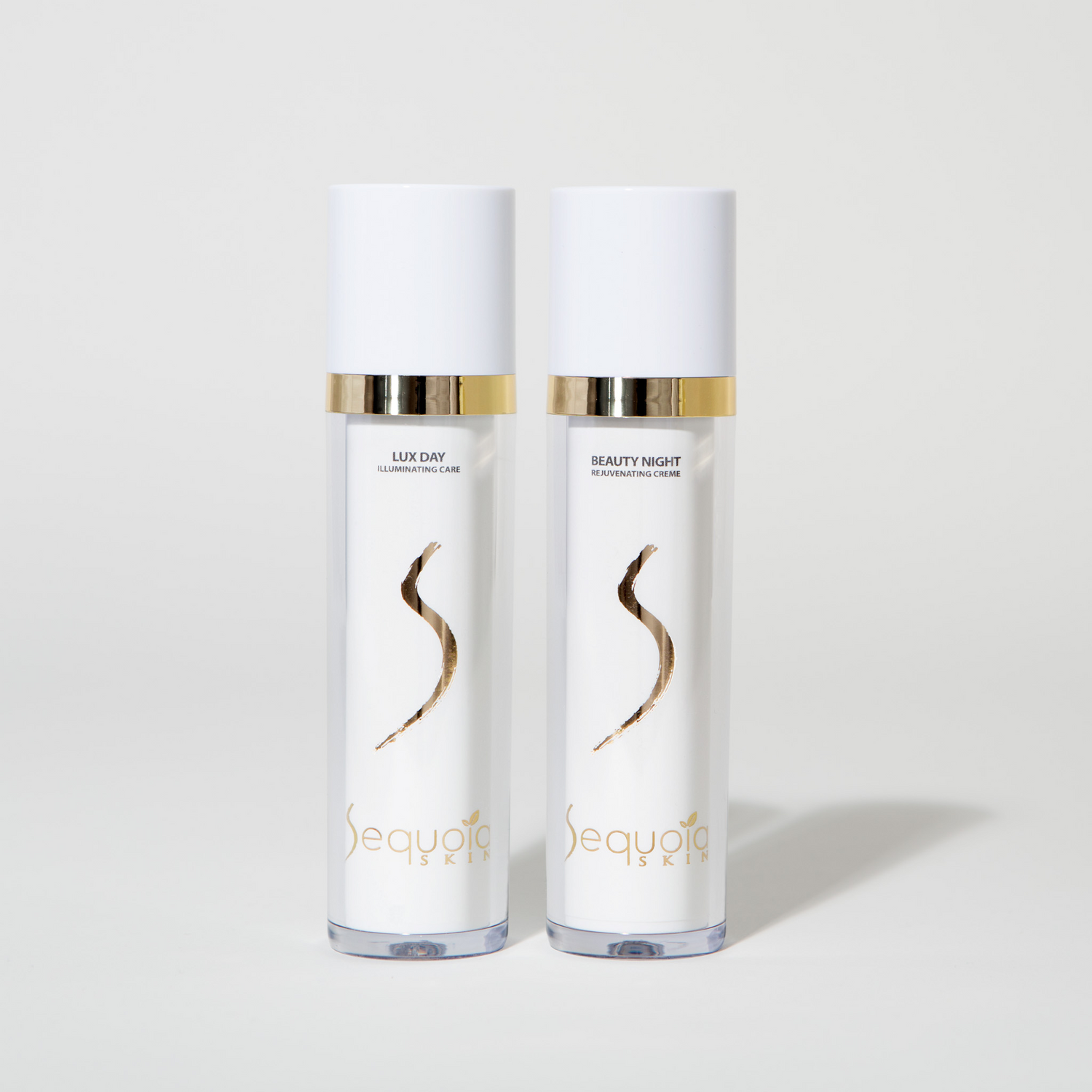 Your entire face care routine in two bottles
Two little Bottles can replace your entire face care routine.
Use these products as your daytime moisturizer, day time protector, night time firmer and wrinkle smoother. It's all yours with two easy to carry bottles. (Perfect for traveling light.)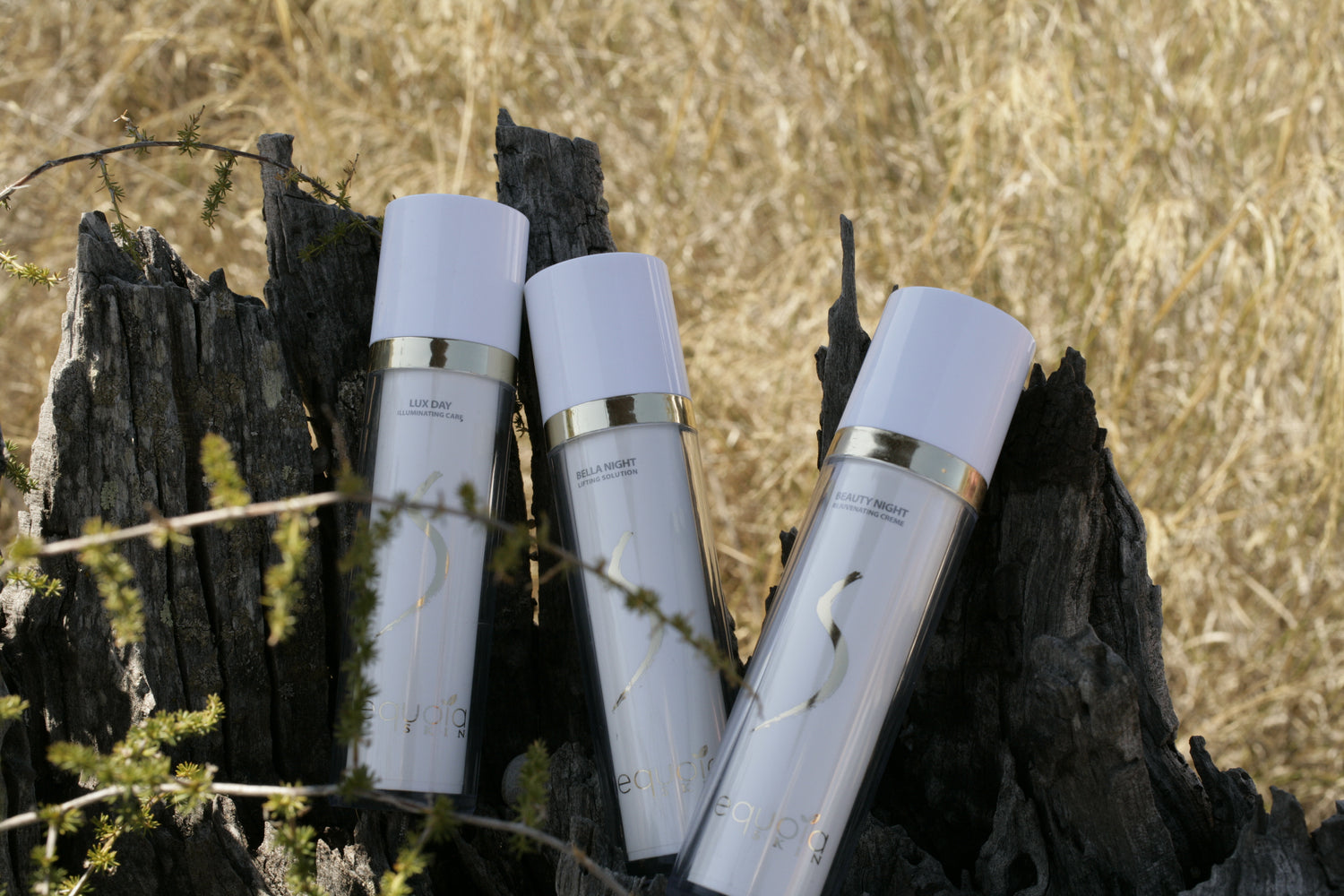 WHAT IS SEQUOIA EXTRACT?
Exclusively from Sequoia Skin

Sequoia Skin's star ingredient – the incredible Sequoia essence is derived from the majestic giant sequoia. This unique elixir takes center stage in all of our products.

Sequoia extract supports cell renewal and strengthens your skin's resistance. With a proven track record in medicine, Sequoia's active ingredient works wonders against exhaustion, headaches, burn-out, weakness in the connective tissue, and, most importantly, skin diseases.
FAQs
What is the Sequoia skin bundle and How does it work?

With Sequoia Day and Night, you get a full beauty routine in two simple bottles.

Our inventor, Sabine Kindler, designed these products based on 14 years of research and testing.

This bundle includes…

1. Lux Day A Moisturizing and Wrinkle Reducing Day Cream that will hydrate and protect any part of your skin. 

2. Beauty Night - Our night time hydrating and firming cream.
WHAT IS THE DIFFERENCE BETWEEN SEQUOIA SKIN AND OTHER LUXURY SKIN CARE BRANDS?

There are two huge difference between Sequoia Skin and other luxury skincare brands.

1. The first difference is sequoia extract itself. We are in the first in the US using the ingredient in skincare.

2. The unique formulation of sequoia extract mixed with active ingredients aloe vera, jojoba oil, biotin, and titanium dioxide. It took us 12 years to formulate it, it wasn't easy.
HOW LONG-LASTING ARE SEQUOIA SKIN PRODUCTS?

Unlike other cream based brands, our products are very efficient. One pump from the airless dispenser is sufficient for one application, which preserves the rest of the bottle. If you use a day and a night cream, the application time is a good 3 months.
WHAT MAKES IT EXPENSIVE?

We take pride in NOT being a department store brand :)

What you are paying for are potent, safe, organic ingredients formulated in a way that really works.

Instead of wasting money on ineffective and cheap department store products over and over, invest in your skin and give Sequoia a try.
HOW DOES THE MONEY BACK GUARANTEE WORK?

We believe that you will love our products so much that we will give you your money back if you don't. All we ask is that you try the product for at least 30 days.

Please visit our refunds page below for more information.
Refunds page
HOW FAST DO YOU SHIP?

Depending on where you live, expect Sequoia Skin to be in your hands within 3-5 days
Join 1000+ Happy Customers
We just started selling online please leave an honest review whether good or bad :)